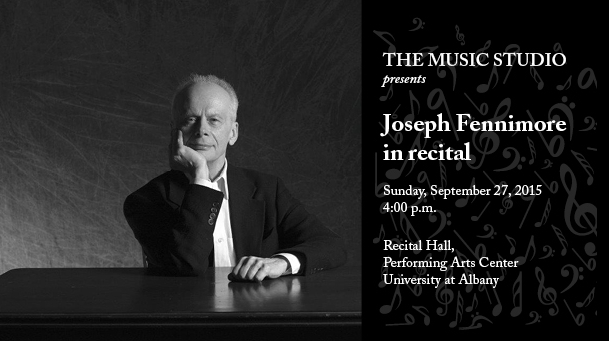 It is a thrill and an honor to announce that Joseph Fennimore will give a solo recital on Sunday, September 27, at the Recital Hall of the University at Albany's Performing Arts Center.
Mr. Fennimore is not only The Music Studio's brilliant master teacher and a highly acclaimed composer, he is also a virtuoso pianist, with Juilliard, Eastman, and a touring career in his past. You might not know that because Mr. Fennimore rarely gives concerts anymore; this will be his first in 15 years, and it will be incredible. He'll be playing Bach, Mozart, Chopin, Rachmaninoff, Liszt, Debussy, and more, including one of his own Romances. Mr. Fennimore's playing is absolutely entrancing, full of power, delicacy, wit, and emotion.
So why, after 15 years, is he gracing us with his talents? As a long-time friend of The Music Studio, Joseph Fennimore has offered this recital as the kickoff fundraiser for our new nonprofit foundation: The Music Studio Initiative. The Initiative will plan and fund all kinds of musical outreach, collaboration, and study: benefit concerts that bring our students and faculty to area hospitals and nursing homes, appearances by our performing troupe at community events, the commissioning of works by outside composers, scholarships to area students, and sponsoring of recitals. Anything, in short, that helps the Capital Region's Music Community to thrive.
Tickets to Mr. Fennimore's recital are free for all students under 18. For everyone else, however, we are asking for a $20-per-ticket donation to The Music Studio Initiative. We hope you will join us at the beginning of our new adventure.
Call 518-459-7799 to reserve your tickets or print the order form to the left and mail it with your donation to The Music Studio Initiative, 1237 Central Avenue, Albany NY 12205.