New Holiday Offering:
Santa's Musical Workshop
Learn to play your favorite Christmas tunes in just 2 hours–even if you're a beginner!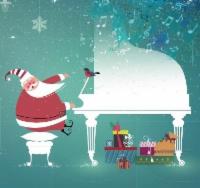 The Music Studio is offering a new treat for adults this December: Santa's Musical Workshop, which will teach Christmas favorites to beginners and non-beginners.
Students can sign up to come for two weeknights or one longer Saturday workshop. Either way they will leave with all the materials and knowledge they need to make some holiday music. Beginners will meet Mondays, December 6 and 13, 7:45–8:45 p.m. Non-beginners will meet Thursdays, December 9 and 16, 7:45–8:45 p.m. The Saturday workshop will accommodate all levels and meet 9–10:50 a.m. on December 11.
The workshop (either the two-day or one-day option) costs $65, which includes materials (plus a Santa hat). For just $30, students can add a 20-minute booster lesson by Zoom, to brush up right before the holiday.
Santa's Musical Workshop will be taught by accomplished pianist and educator Brian Halliday. Brian has a degree in jazz studies with a concentration in piano performance. In addition to being a member of The Music Studio's faculty, he plays keyboard in the band Soul Session.
Click here to enroll or call 518-459-7799 with questions.
Masks are required.
___________________________________
Do you wish you'd taken piano lessons as a child? Or do you wish you'd never quit? The Music Studio has the answer: Recreational Piano. We can't fix the past but we can fill your future with music. All you have to do is enroll in Recreational Piano, the adult piano program offered by the Capital Region's leading music school. Featuring The Music Studio's highly experienced faculty, well-equipped classrooms, and small class size, these courses are fun and effective. Our new Remote option allows for far-flung students or those who require greater flexibility in scheduling. For both in-person and remote classes, students at all levels learn at their own pace to play the music they love, with the guidance of our incredible teachers and the support of their classmates.
Our Beginning class is for those who've never had a piano lesson but are ready to make music. Our Ongoing classes are for those who've gotten a start, but still need a large dose of instruction. Our No Pressure Refresher classes are for those who want to make their way back to the piano, as well as focus on the joy of making music together. All classes are 9 weeks; $275, including books.