---
Enrolling Now!
---
Summer 2022 CLASSES
for Children Ages 3 to 8
★ click here to enroll in Summer Classes ★
---
---
---
Young children have an innate affinity for music, and they absorb new concepts quickly and easily. Music for the Young classes are a great way to get them started, in small, short-term classes grouped by age. Two-and three-year-olds will be captivated by songs, dances, instruments, rhythm games, and slightly older children will thrill to the puzzle of musical notation.
MUSIC FOR THE VERY YOUNG: 2-YEAR-OLDS
In Music for the Very Young, parents and their 2-year-old children experience the heritage of traditional tunes, folk songs, finger games, and nursery rhymes, creating a delightful family legacy of shared music. Classes are small so parent and child can focus on one another — and the fun of making music together. Classes are 50 minutes and meet for four sessions.  Tuition: $106.
Summer 2022 SCHEDULE
LET'S BEGIN: FOR 3–7-Year-Olds
An introduction to The Music Studio's school year Foundation Program, Let's Begin is designed for children ages 4-7. Although the course is complete in itself, it also enables both students and parents to experience, in a short-term course, the varied musical activities and shared reactions that are part of the Foundation Program. Parents attend class with their children and participate with them in many of the class activities: Singing, ear training, rhythm, movement, keyboard orientation, note reading, ensemble, and composition. Classes are 50 minutes and meet for 4 sessions. Tuition: $106.
Summer 2022 SCHEDULE
★ OR You Can Make Your Own Class. Really! ★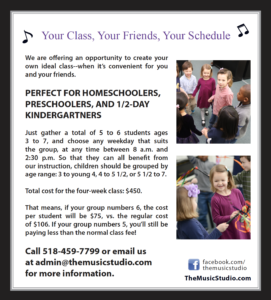 ★ enroll in Summer Classes here ★
---