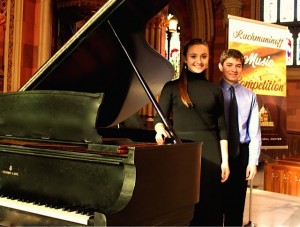 On Saturday, February 7, Alexandra Sipos and Nicholas Watson took high honors in the 7th Annual Rachmaninoff Piano Competition sponsored by the New Russia Cultural Center. The competition took place at the Cathedral of the Immaculate Conception in downtown Albany.
Alexandra Sipos, age 16, played Igor Stravinsky's "Tango for Piano," and placed third in the senior division. Alexandra, a student of Noel Liberty, has been studying at The Music Studio since the age of five. Two years ago, Alexandra placed third at the Apprentice Level in this competition (then called the Tchaikovsky Piano Competition). She is a sophomore at Albany High School, where she competes on the soccer team, participates in the theater ensemble, and sings in her school's all-female a cappella group and select choir (in addition to taking an honors course load). She also sings in the choir at St. Vincent De Paul church.
Nicholas Watson, age 12, won first place in the junior division for his rendition of "Three Fantastic Dances" by Dmitri Shostakovich. It was his first competition. He has been studying at The Music Studio for seven years, and is currently a student of Noel Liberty. A seventh-grader at Bethlehem Central Middle School, Nicholas also plays violin and is a member of the Empire State Youth Orchestra's Repertory Orchestra. On March 6, he will be playing his award-winning piece at the Voices of Hope Concert at the First United Methodist Church in Delmar.  The concert benefits the Interstate Partnership for the Homeless, which provides children's programs to Albany's homeless.