Do you have a child on your holiday gift list who's ready to start making music? The Music Studio is offering a wide assortment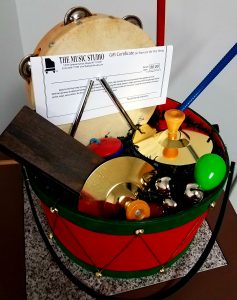 of Music for the Young classes for children ages 2–7 beginning in January, as well as Circle of Friends classes for children ages 4–8 with special needs. Gift certificates can be purchased for any of these–prices range from $74 to $147–and they make lovely presents, especially tucked into a musical gift basket like the one pictured at right (adorable kid not included).
Remember, when you give a gift for a music class, you are giving a gift that lights up a child's brain and enlarges his or her world. You're giving a weekly outing with a cherished adult, new friends, new skills, and–of course–the joy of music. That's going to last longer than a Jurassic Rex or a Baby Alive Potty Dance Baby Doll.
Call the office at 518-459-7799. We can mail a gift certificate to you or to the lucky recipient. Or you can stop by the office from 9 a.m. to 4 p.m. on weekdays.