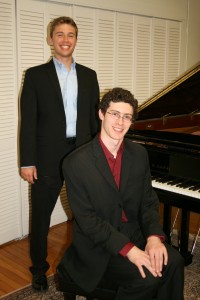 Pianists and Music Studio alumni Dan Teitler and Ryan Reilly recently graced their former school with a beautiful private recital of works by Granados, Beethoven, Schubert, Rachmaninoff, Schumann, Fennimore, and Chopin.
Daniel Teitler grew up in Glenmont, and studied at The Music Studio, where his teachers were Alice Kurkjian, Noel Liberty, and Joseph Fennimore. Local highlights as a pianist included winning first prize in the '00 Parillo Piano Competition and performing Mr. Fennimore's "Concerto Piccolo" as a soloist with the Albany Symphony Orchestra. Daniel went on to earn degrees in piano performance from SUNY Purchase and the University of Minnesota. He lives in Taipei with his wife and daughter, and teaches piano and English.
Ryan Reilly started at the Music Studio at a young age, and went on to Juilliard, first for a pre-college program and then to earn his bachelor's degree. Career highlights include performing as a soloist with the Schenectady Symphony Orchestra in the spring of 2013. Ryan will perform with the SSO again this fall, and is pursuing his master's degree at Juilliard. This summer, he also helped teach Piano Camp at The Music Studio.