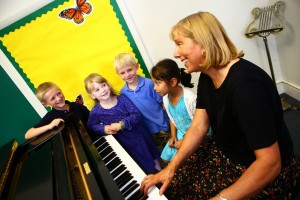 On Sunday, May 7, The Music Studio will hold Open Houses for its summer Let's Begin and school-year programs (at 1 p.m.) as well as for its new Music for Children Special Needs programs (at 2 p.m.).
Another general Open House will be held Monday, May 15, at 7 p.m.
These hour-long events offer parents and their children (ages 4 through 7) a chance to experience the unique energy of The Music Studio's music program, in both its traditional form and as developed to serve children with special needs.
Why has The Music Studio been the Capital Region's music school of choice for 40 years? Why do so many former students–and so many professional musicians–send their children here? Why do our students flourish both in the musical world and beyond?
Open Houses give parents the opportunity to get the answers to these questions and many more practical ones, as well as meet the teachers and tour the school. Reservations can be made through the contact form, by email (to admin@themusicstudio.com), or by calling (518) 459-7799.