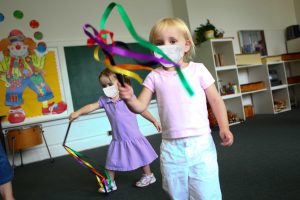 The Music Studio has been closed since mid-March — or rather, its building has been closed. With both asynchronous and synchronous remote classes and lessons, and through the enormous efforts of parents and faculty, the school continued to offer its students its signature challenging and supportive music instruction throughout the spring.
Now, with the Capital Region slowly reopening, The Music Studio is preparing to open its doors August 3, beginning with summer classes for both current and new students. But with the pandemic still a factor, the school is determined to operate as safely as possible, according to a series of new protocols. These include:
All visitors, students, staff, and faculty will be required to wear a mask inside The Music Studio. 
Class times will be staggered to reduce occupancy in public spaces. 
Traffic will be one way: people will enter through the rear door and exit through the side door.
All students and parents will have their temperatures checked before entering The Music Studio.
Students and families will wash or sanitize their hands before entering a classroom.
Class sizes will be reduced by half to a maximum of 4 students.
Instruments will be disinfected between classes, and will not be shared during class.
Parents who are not attending class with their children will be asked to wait in their cars instead of indoors.
High-touch surfaces throughout the premises, including railings, doorknobs, and bathroom fixtures, will be cleaned several times a day. 
Please contact The Music Studio if you have any questions about its new safety protocols.