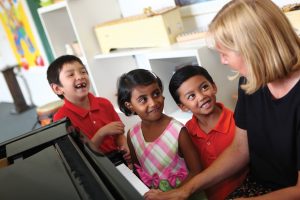 The area's most celebrated music school is hiring! The Music Studio is a proud Capital Region institution, with thousands of devoted alumni and a forty-year history of creating, challenging, and supporting young musicians.
The school is looking for a highly motivated candidate with a degree in piano or piano pedagogy, who loves to teach, enjoys young children, and has the outstanding musicianship and musical understanding to inspire older children. Responsibilities include teaching well-structured, high-energy music fundamentals classes for children ages 3-8 (singing, ear training, rhythm, movement, reading, keyboard, recorder, Orff, and guitar) as well as piano lessons and repertoire instruction for intermediate and advanced students.
This is a full-time, salaried position. The Music Studio offers extensive training, some scheduling flexibility, and competitive pay and benefits.