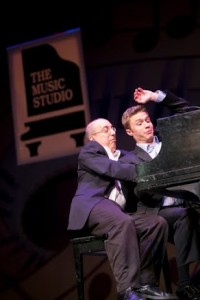 On Tuesday, June 23, The Music Studio ended its academic year on a high note, with a celebration of music called "I Love a Piano," at the Performing Arts Center of the University at Albany.
"I Love a Piano," featured world-renowned composer and pianist Donald Sosin, The Music Studio Kids, and Creative Keyboard II students celebrating their graduation from the school's Foundation Program.
The theme was the piano's incredible versatility, power, and playfulness. In two hour-long shows, there was a short silent Charlie Chaplin film with live accompaniment by Mr. Sosin; "Hot Cross Buns" played by Mr. Sosin in the style of any composer called out by the audience (Wagner–complete with singing–was the winner); "Piano Man" performed by Music Studio student Jesse Cohen-Greenberg; and a bravura guest appearance by alumnus (and current Julliard graduate student) Ryan Reilly, who played Liszt's "La Campanella" and fought Mr. Sosin for keyboard dominance in a performance of the Hungarian Rhapsody no. 2.
It's was a lot to pull together just as the year is winding down, but for Music Studio founder and director Noel Liberty, it's worth it. She feels it's important to gather the school community together at the end of the year to share in the joy of listening to and making music. As for the theme of "I Love a Piano," Mrs. Liberty says, "Learning to play the piano can be hard work. But it opens up entire worlds. That is something to celebrate."