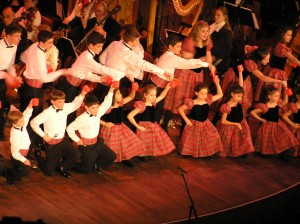 On Sunday, December 7, for the ninth year in a row, the Albany Symphony Orchestra's "The Magic of Christmas" will feature an amazing troupe of young musicians: The Music Studio Kids. The Kids, who range in age from 7 to 18 (plus a few young guests), are private piano students at The Music Studio. They spend spend an incredible amount of time in addition to their normal piano practice (and homework!) preparing for their part in the holiday spectacular, which has become a beloved area tradition.
It all began when the ASO was planning its first"The Magic of Christmas," in 2006. Miller, whose children had been students at The Music Studio, called to ask founder and director Noel Liberty if she wanted to be involved. "I always say yes," says Liberty. "I love to give kids opportunities to perform."
But Liberty searched in vain for Christmas music arranged for Orff instruments (such as xylophones, glockenspiels, and metallophones). So The Music Studio ultimately commissioned works from composer Paul Gerike, and has been using his pieces, both new ones and old favorites, ever since.
This year they will be performing two Gerike arrangements, one choral and one for Orff instruments. Both pieces are complex and involve the full orchestra—strings, winds, brasses, percussion, and harp—as well as the solo and ensemble vocal accompaniment and Orff instrumentation.
"It's truly an honor to play with a professional orchestra," says Liberty, "and the kids feel that. They work incredibly hard to be able to perform at that caliber."
In addition to working with the ASO members, the students also get a chance to work with a professional conductor, when David Alan Miller attends the final rehearsals at The Music Studio. "I think and I hope that it's a very exciting thing for these kids to be with us," says Miller. "And it's very exciting for us to be with these kids."
You can buy your tickets for "The Magic of Christmas" here. Meanwhile, have a look at clips from last year's show: