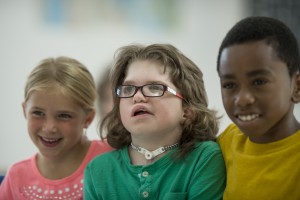 The Music Studio is hosting four Open Houses in January, to introduce parents and families to some of the short-term classes we offer to young children, as well as The Foundation program that begins every fall.
The first Open House, on Sunday, January 8, at 1 p.m., is specifically dedicated to introducing parents and children to our new class offerings for children with special needs. Families will be able to meet with Beth McLaughlin, the highly experienced board-certified music therapist who will be teaching the classes, and well as with Noel Liberty, founder and director of The Music Studio. They will also be able to participate in a short music activity to give them a feel for the structure and material used in Circle of Friends.
On Wednesday, January 11, at 9:30 a.m. and Friday, January 13, at 1 p.m., we'll be hosting Open Houses for parents with children ages 2–4. The final Open House, on Sunday, January 15, at 1 p.m., will be geared toward parents of slightly older children (ages 3–7). In all of these open houses, parents and children will be able to engage in musical activities and experience the high-energy learning that is the hallmark of all our classes.
For more information and to sign up, please call 518-459-7799.