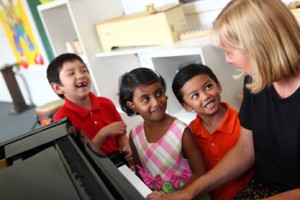 The Music Studio is pleased to announce it is adding to its exceptional faculty with a full-time teaching position beginning in September. Candidates should have a degree in piano or piano pedagogy, and be prepared to teach both private piano students and high-energy music classes for children ages 4 to 8. "We give our teachers extensive training in The Music Studio curriculum," says Noel Liberty, Director. "But we can't give them a love of teaching. They have to arrive with that!"
Responsibilities include:
Teaching well-structured, high-energy music fundamentals classes for children ages 3–8, with emphasis on singing, ear training, rhythm, movement, reading, keyboard, recorder, and Orff.
Teaching piano lessons, both private and class, for students and adults of various skill levels.
Preparing students to perform at their best in periodic recitals, evaluations, and public performances, and helping the Studio administer those events.
This is a salaried position with periodic increases and competitive benefits. The schedule consists of afternoons, evenings and Saturdays. A positive, can-do attitude is essential.
Interested candidates should send resume, cover letter, and three professional references to admin@themusicstudio.com.
Please feel free to call (518) 459-7799 with questions.